Plastic Welding Equipment & Intelligent Assembly Solutions
Designs, manufactures and supplies advanced technology plastic welding solutions used in manufacturing operations throughout the major industrial regions of the world. In addition they develop and apply their high power ultrasonic technology to other industrial applications such as cutting tacky and abrasive materials, welding of metal components, sieving, and fluid processing.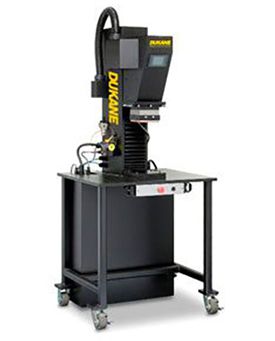 Heat Staking Thermal Press Welders
Thermal staking provides an alternative to ultrasonic welding when there are limitations or requirements that ultrasonic technology cannot produce.Thermal Staking also provides an alternative to ultrasonic welding when the two parts to be bonded are of dissimilar materials which will not bond together or if a simple mechanical retention of a part relative to a second part is adequate.Common type of heat staking applications involves the attachment of plastic to metal, plastic to plastic or multiple staking bosses to be simultaneously staked at various heights or sizes.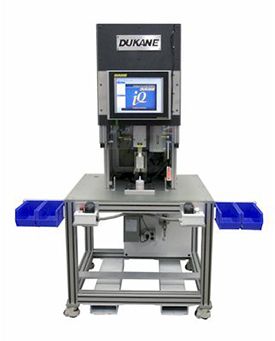 Custom Engineering
From simple to complex, Dukane can design and build an assembly system for your application(s). Many of the systems we build feature servomotors, optical part sensors, indexing tables and sound enclosures.