Automator Marking Systems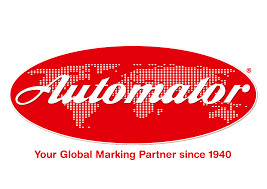 Our History
Automator was founded in 1940 by Maurizio Barcilon, and since then, for over 65 years, has always been dedicated with passion and professionalism to the industrial marking. The idea of the founder was that everyone, sooner or later, should have understood the importance of marking and so will become customers of Automator!

This is because not only mark is often a legal requirement but, perhaps even more often, it is a valuable gesture to identify, qualify, track, and promote a product.That focus has lead AUTOMATOR to become the largest marking only in the world.

In 1979 the leadership passed to his son, Jaime Barcilon, who confirms the company's mission: design, production and sale machines and systems for marking, engraving, stamping, identify, codify, trace and decorate any kind of product of any kind of surface.

Marking becomes a strategic marketing action that enhances the product and / or shares the image and the name of the company: think about product's decorations or marking – permanently – the company logo on the your products.

Using the marking as a tool to increase the perceived value of the product, it becomes the basic quality and versatility of the marking.